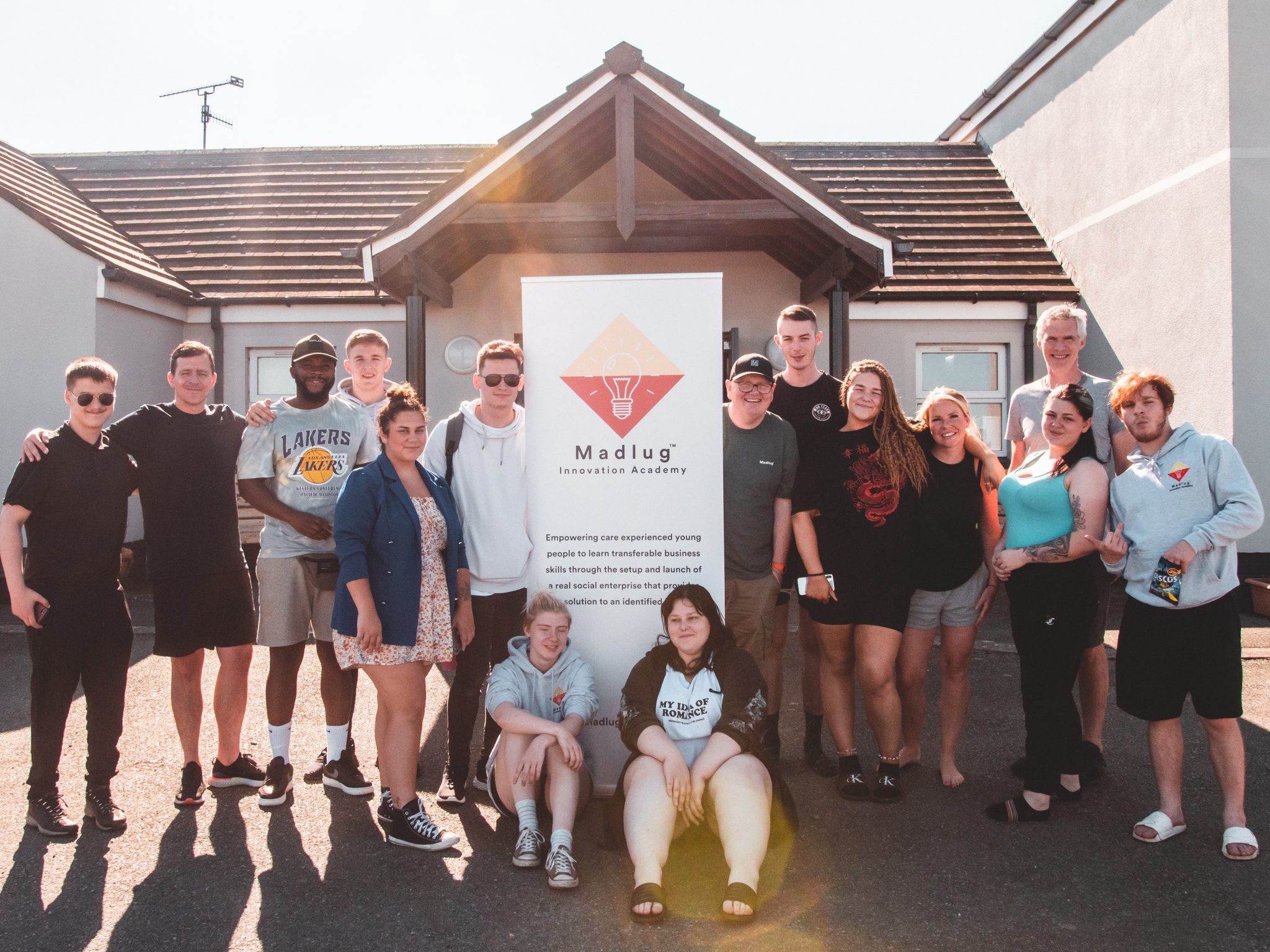 Empowering Care Experienced Young People.
We are excited to have delivered our first empowerment initiative called Madlug Innovation Academy.   This was focused on empowering care experienced young people to learn transferable business skills through the setup and launch of a real social enterprise that provides a solution to an identified issue.
Through Madlug's relationship with the Care Leavers National Movement which is at the heart of a national charity called National House Project. We identified a black bin bag story which was to provide new bed linen to care leavers who are moving into their first homes.
Twelve care experienced young people from (Scotland & England) their movement were identified and the project began.
We called this PROJECT BED LINEN
MODULE 1: 
THE BOOTCAMP: 9th – 12th August 2022 (Mourne's, Northern Ireland)
The bootcamp set the goal to design a new social enterprise that will fund the giving of bed linen to care experienced young people who are moving to independence. After the three days we had a business idea, team roles, brand, logo and a 60second pitch which every team member recorded to camera. The new social enterprise designed at the bootcamp is called Senses of Home which is a homeware brand that will use its profits to give dignity to care experienced young people who are moving into independence through the gift of bed linen. A social enterprise designed by care experienced young people for care experienced young people. See www.sensesofhome.com for more info.
MODULE 2:
TWO DAY NEXT STAGE PLANNING: 14th – 15th September 2022 (Crewe, England)
On the second residential we used it to focus on marketing and business planning and finance which included the pricing of our products. The products agreed were a Travel Mug, Mug with hot chocolate and marshmallows, Keyring torch, Coaster. Also at the residential the group agreed the desired social impact from the project which was to give 10 full bedding sets to care leavers. This is a quilt, pillows and duvet set which was costed at £70 per set.
MODULE 3: 
MARKET STALL POP UP: 9th December 2022 (Hyde, England)
The group gathered in Hyde, Manchester on 8th December and we had dinner together and some last minute planning for the following day. On the day of the market the temperature was extremely cold and having an early start made it feel colder. It was so encouraging to see the attitude and excitement with the group. For most of the young people selling was something that they had never done before which meant that this made the day more special. During the day there was always people stopping by the stall and purchasing. The day finished with over £600 sales and a very tired group of young people.
THE KEY LEARNING:
Care experienced young people are incredible.

What the young people achieved in the short time would put many university students to shame.

Their commitment and innovation was outstanding.

Seeing that the whole group stayed involved demonstrated this.

Next time the programme needs to be more localised.

Having young people from across Scotland and England created logistic and communication challenges between each residential.
THE OUTCOMES:
The whole group –
Grew in their confidence and faced their fears

Gained transferable business skills

Learned about social enterprise as a business model

Co – founded a social enterprise called Senses Of Home

Helped 10 care leavers move into their first home with dignity through providing new bed linen

Created by care leavers to help care leavers.
We are the registered charity at the heart of the Madlug™ movement.
Providing bags, raising awareness and finding solutions.